Apart from the mysteries surrounding the Etruscans, it is their expertise at jewelry making that has gained them posthumous fame to this very day. For example, of particular interest is their ability to work with filigree to such a degree that Etruscan-style jewelry nowadays most commonly contains this very element as an identifier. Another telltale element is the use of granulated gold.
If you are as fascinated by this epoch as the professionals at Peter Suchy Jewelers, please note that we have added a variety of Etruscan-style jewelry to our inventory for your review. We may just have that perfect item to complement your collection.
Round Top Ring with Diamond

Crafted from 14k white gold,
this cocktail ring
displays an Etruscan style round top. At the center of the circle is a round brilliant-cut diamond weighing .30cts. The detailed engraving along the sides of the ring is an attractive style element. This jewel would make an excellent choice for an engagement ring.
Victorian Gold Dangle Earrings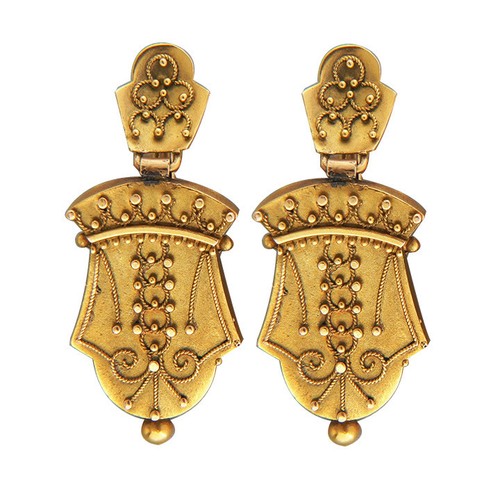 As previously mentioned, the use of gold granules is
a telltale sign of Etruscan style jewelry
. These Victorian gold dangle earrings – we date their manufacture to the 1860s – beautifully display this element. The material is 14k yellow gold. From top to bottom, these earrings measure 1.42 inches. The granules highlight the careful rope work that details the pieces.
Feldspar Dangle Earrings in White Gold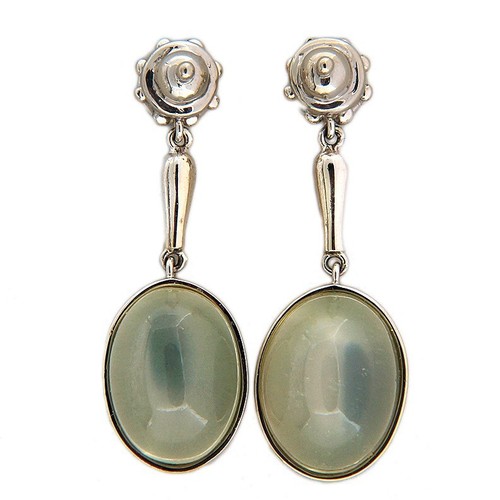 Set in 14k white gold, there are two pieces of
cabochon-cut gray green feldspar
that weigh in at 10.0cts. The Etruscan style elements visible here are the elongated sections of the dangle portions as well as the gold granules that surround the stud portion of the earrings. From top to bottom, these earrings measure 1.34 inches.
Gold Dangle Ball Earrings

These
exquisite dangle earrings
are made from 14k yellow gold. The craftsmanship is truly stunning. Measuring 1.91 inches in length, the eye is first caught by the detailed Etruscan-style filigree work. Three-dimensional design elements make these so unusual that you will be hard-pressed to find someone else wearing something similar.
Yellow Gold Bracelet Combining Multiple Gemstones

The clever combination of Byzantine and Etruscan style elements have led to the creation of a 14k yellow gold
bracelet that comes in six barrel sections
. There are three cabochon-cut peridots and garnets each as well as two citrines and garnets each. Three blue topaz cabochons round out the colorful display of this bracelet. Bringing some sparkle to the table are 36 full-cut diamonds weighing in at .40cts.
At Peter Suchy Jewelers we are experts in all types of vintage, estate and antique jewelry. We hope you'll
stop by our showroom
located at 1137 High Ridge Road in Stamford Connecticut.
Or, hop on over to our top-rated PowerSeller
eBay store
where you'll find all the vintage Etruscan jewelry you see here. If you find a listing has ended, please email us at
info@petersuchyjewelers.com
as we may still have the item in stock.