Should you buy the gorgeous pair of 1920s dangle earrings you have been eyeing? Should you wear your small studs or the larger hoops with your current hair style? Your earring choice questions – answered!
Q: Does the shape of my face influence the look of the earrings?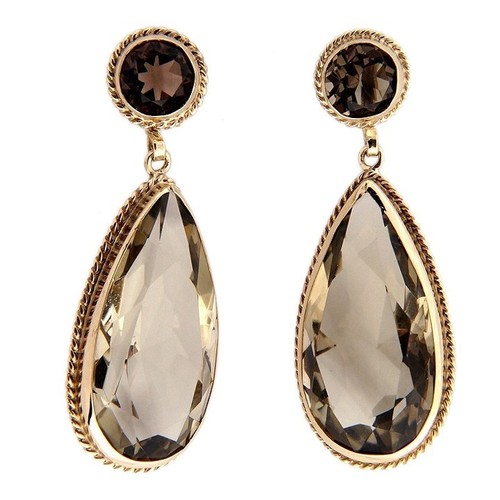 A:
Indeed, it does. If you were blessed with an oval face, you can wear pretty much any type of earring that you would like. Yet what do you do when you do not have this perfect oval shape? For the square visage, we recommend the use of
chandelier and dangle earrings
.
Go for intricate designs rather than the bigger sizes to draw the eye toward the chin and away from the cheeks. By the way, these are also great choices when you have a heart-shaped face. In addition, those with this facial shape should consider wearing teardrop earrings.
Q: How should the choice of other jewels influence my earring selection?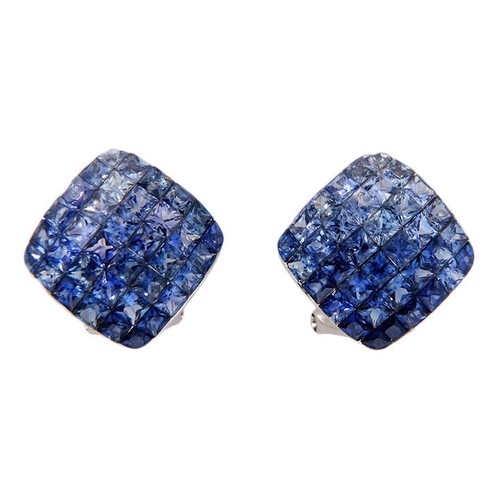 A:
It is generally a good idea to make
one jewel the focal point
of your ensemble. For most folks, this is the necklace. Yet if you own a gorgeous pair of earrings that you want to show off, go for it! Just be sure to choose a necklace, bracelet and/or ring that do not steal the show.
Resist the temptation of wearing that focal point necklace with your conversation piece earrings. Too much of a good thing is still too much. (By the way, if you wear designer earrings, they always take top billing in your jewelry ensemble. Even if they look somewhat plain, consider them to be the showpieces that are jewels need to accessorize.)
Q: Should the length of my neck influence the selection of my earrings?

A:
Unless you have a gorgeous swanlike neck, you do need to pay a bit of attention to the size of the earrings. Since dangle earrings and hoops are hot items right now, Peter Suchy Jewelers always post the
length of the earrings
(top to bottom) in our jewelry descriptions.
Pay attention to them! If you wear earrings that touch the tops of your shoulders, you are making your neck look a bit shorter than it is. If you have the aforementioned swanlike look, this is no problem. If you do not, err on the side of caution and go for a shorter set of earrings.
Q: What are the best earring colors?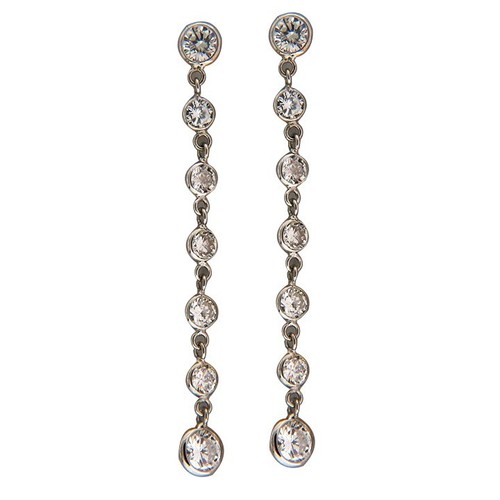 A:
Accessorizing a simple black dress
with sparkling diamond
studs is a wonderful idea. Yet when you are going for a less formal look, consider wearing earrings with colorful gemstones and sparkly diamonds whenever you wear your hair down. If the earrings are competing for attention with the strands of your hair, colors and sparkles make them stand out more.
Q: Are dangle earrings always a bad idea for the office?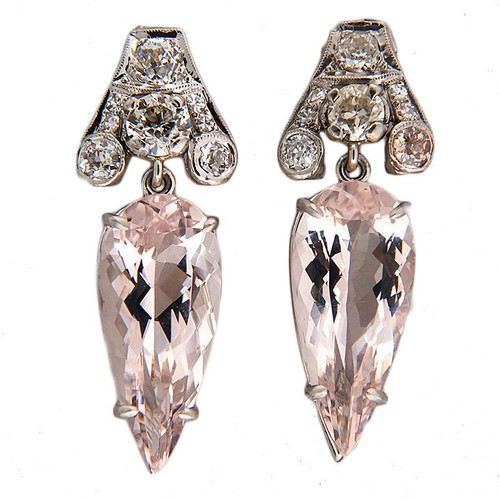 A:
Not necessarily. Some shorter dangles can be quite attractive depending on your facial features. That said, keep in mind that
solid teardrops
and studs are generally more accepted within an office or boardroom setting. The choice of length and movement really depends on the formality of your work environment. For example, when you work for a pediatrician, your choice of jewelry will be different – beware of small grabbing hands! – than when you work for a real estate agent.
At Peter Suchy Jewelers we are experts in all types of vintage, estate and antique jewelry. We hope you'll
stop by our showroom
located at 1137 High Ridge Road in Stamford Connecticut.
Or, hop on over to our top-rated PowerSeller
eBay store
where you'll find all the vintage earrings you see here. If you find a listing has ended, please email us at
info@petersuchyjewelers.com
as we may still have the item in stock.