The pin is to the blouse what the belt is to a great pair of pants: a must-have accessory. It sets the tone for a relaxed, formal or whimsical look. Some pins are so unusual that they become instant conversation pieces. This may be due to the design, material choice or artistry. Others are sized to draw the eye and should therefore become the focal points of your jewelry ensemble rather than an accessory that supports the look of a necklace. If you are searching for just this type of pin, Peter Suchy Jewelers have exactly what you are looking for.
Designer Blum Gold Pin with Diamonds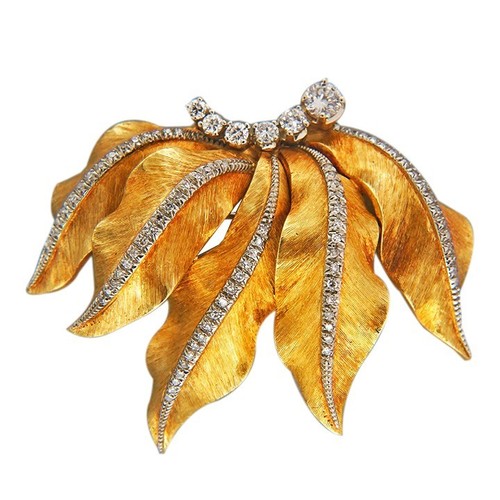 When textured gold is de rigueur, only this
1950s three-dimensional pin will do
. Coming from the Blum design house, this jewel is made from 18k solid gold. The artisan carefully textured the piece for a maximum effect. There is one full-cut diamond that weighs .25cts and five smaller full-cut diamonds weighing a combined total of .37cts. This pin resembles a bunch of leaves that display with sparkly spines and diamond accents at the connection point. The slight curvature of the gold is amazing. At a width of two inches, it is just the right size for your blouse.
Staubbach
Falls
Waterfall Picture on Porcelain Pin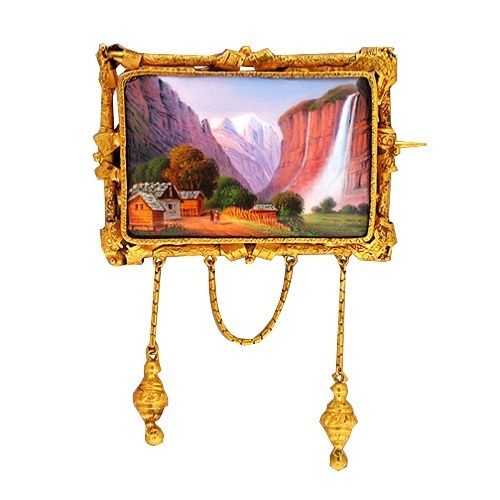 Imagine wearing an authentic picture on your blouse! This vintage pin gives you the opportunity to do so.
Made in the 1860s
, its setting material is 10k yellow gold. The porcelain enamel picture displays the famous Swiss falls. The frame features tassels and a chain. The pin measures two by 1.5 inches. The tassels add another 1.5 inches.
Gold Bird Pin with Diamond Accents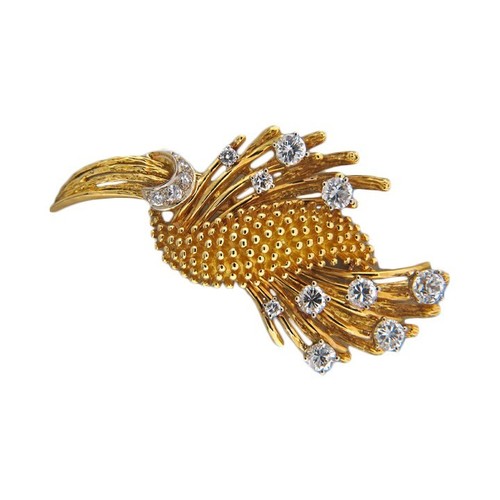 The detail work on this gold pin is truly amazing. Dating back to the 1960s, the 18k show piece measures 2 1/8 inches from top to bottom and 1 1/8 inches from side to side. The bird shape features gold balls and ample detailing.
Diamonds serve as accent pieces
. The total weight of these stones is 1.75cts. Look closely, and you will find one old-European-cut, nine brilliant-cut and six mixed-cut pieces.
Palace House Pin with Multiple Gems Set in Gold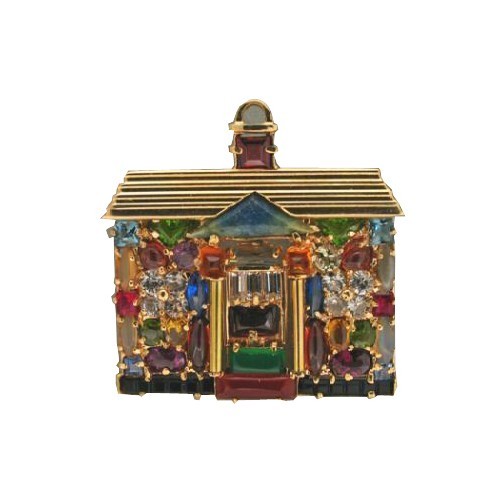 Set in 14k yellow gold, this pin is unique because
of the bevy of gemstones
that make up its windows, door and other accents. The number of stones is nothing short of amazing. There are two marquise sapphires, 12 square-cut onyxes, four square blue Zircons as well as sapphires, peridots, amethysts, topazes, citrines, rubies, aquamarines, quartzes, garnets, lapises, carnelians, quartzes and chrysophases. The house pin measures 1.5 inches by 1 3/8 inches.
Orchid-Shaped Pin Featuring Hand-Texturing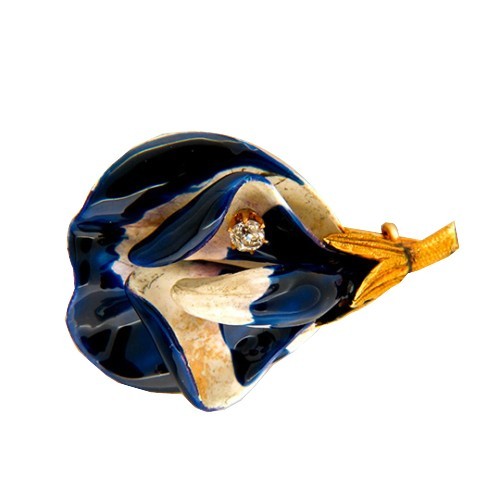 The
floral design is executed to perfection
. The setting and stem are made of 14k yellow gold. The flower's body is made of deep blue and white enameling. Bands of yellow increase the floral motif illusion. An old-mine-cut accent diamond weighs .20cts. We date this marvelous piece to the 1890s. From top to bottom, it measures 1.5 inches; from side to the side, the measurement is 1 1/8 inches.
At Peter Suchy Jewelers we are experts in all types of vintage, estate and antique jewelry. We hope you'll
stop by our showroom
located at 1137 High Ridge Road in Stamford Connecticut.
Or, hop on over to our top-rated PowerSeller
eBay store
where you'll find all the vintage pins you see here. If you find a listing has ended, please email us at
info@petersuchyjewelers.com
as we may still have the item in stock.