There is nothing quite as sophisticated as the channel setting. From the vantage point of the jeweler, it requires superior artistry to place multiple gemstones in an exactly measured row. Stone cuts must be precise, and the creation of the channel allows for little error. Collectors love this design because it is this setting that allows for the use of multiple stones that will nevertheless not snag on clothes or hair. For the budget-conscious aficionado, there is the possibility of purchasing a ring that is a bit easier on the pocket book since there are plenty of channel-set pieces that use smaller gems as well.
Peter Suchy Jewelers offer a large selection of channel-set pieces. Of course, we do have our favorites.
Channel-Set Diamond Ring with Solitaire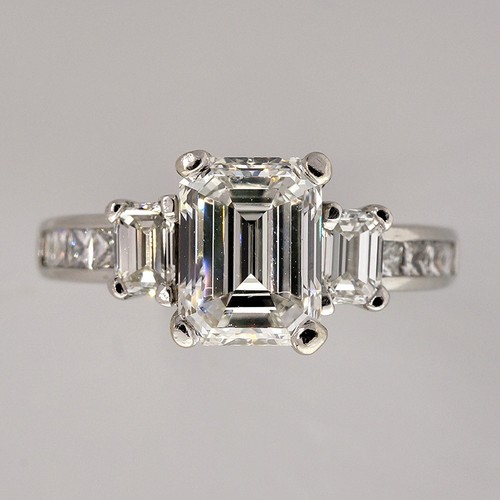 If you are looking for the perfect engagement ring,
this vintage solitaire with diamond accents
fits the bill. The sides of the ring feature eight channel-set princess-cut diamonds that weigh .44cts. The center is an emerald-cut diamond weighing 1.71cts. Two emerald-cut diamonds weighing .56cts accentuate the center stone. All diamonds are set in platinum. The combination of settings makes this ring very attractive.
Sapphire Ring with Oval Diamond Center

Set in 18k solid yellow gold is a platinum bezel that holds
an oval diamond weighing 1.67cts
. Look closely, and you will see a slightly yellow color. Twelve princess-cut sapphires weigh 1.5cts and are channel-set into the band. This ring is a sure conversation starter.
Diamond Eternity Ring

Artisans chose platinum to create the band for this eternity ring. It also doubles as an elaborate channel setting that holds
25 emerald-cut diamonds
weighing 2.25cts. The sides are beaded for a wonderfully whimsical look.
Zig Zag Channel-Set Ring with Diamonds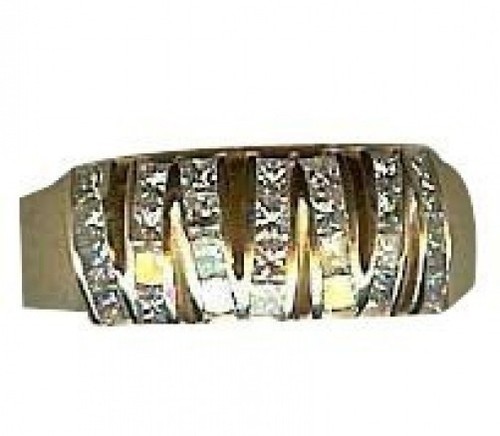 Who wants to always wear the neatly positioned lines that are right next to each other? Live a little! With this zig zag setting, you can combine a whimsical look with great artistry. The
jewelers chose 14k gold
to hold a total of seven channels. Twenty-eight princess-cut diamonds weigh 1.56 and imbue the surface with flashes of light.
JME Swirl Ring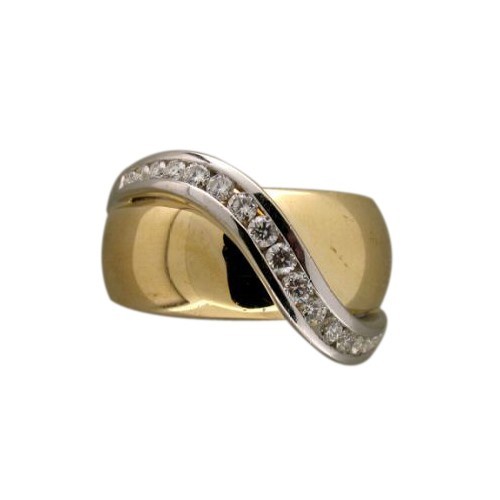 Coming from the JME design house, this ring starts with a 14k solid yellow gold wide band ring. A dramatic white gold swirl that also becomes the channel setting crosses the band. It contains
17 round diamonds weighing .50cts
. This elegant ring looks very sophisticated on the finger and is sure to get you plenty of attention.
At Peter Suchy Jewelers we are experts in all types of vintage, estate and antique jewelry. We hope you'll
stop by our showroom
located at 1137 High Ridge Road in Stamford Connecticut.
Or, hop on over to our top-rated PowerSeller
eBay store
where you'll find all the vintage channel cut rings you see here. If you find a listing has ended, please email us at
info@petersuchyjewelers.com
as we may still have the item in stock.