Although obsidian, a volcanic glasslike mineral, has been worked since about 3500 BCE, glass did not become a raw material for jewelry until about 1479 BCE. What likely started in Egypt eventually moved into Thailand, India, Mexico, China and other areas along the trade routes. In fact, archaeological digs in Egypt, Mexico and India have unearthed proof that jewelry makers used glass in place of – or in addition to – gemstones when doing their work. Some artisans played around with the fusion of glass and stone. Others combined different types of glass for intricate looks.
Fast forwarding to modern-day Europe and America, glass jewelry has never lost its fascination. It merely got more refined. Bohemian glass jewelry is famous for its beautiful look that combines grind-decorating with a specific type of glasswork. Other glass types used in jewelry include cameo and dichroic glass. At Peter Suchy Jewelers, we love the look of glass and have succeeded at including several collectible pieces in our inventory.
Blue Glass Designer Bracelet with Diamonds and Sapphires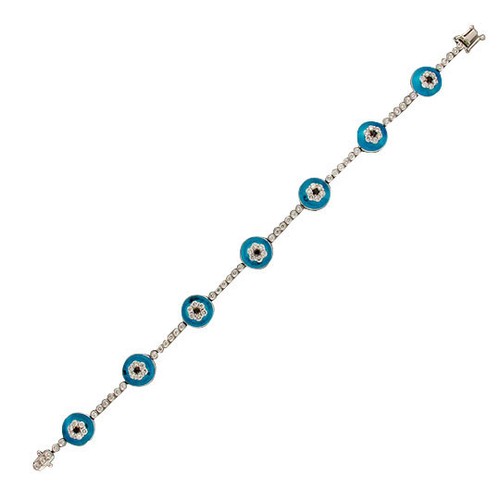 This hinged link bracelet is held together
by 18k yellow gold
. The designer's name is identified as BA. There are seven round sapphires that weigh a combined .35cts. Forty-six full-cut diamonds weighing .55cts and 42 full-cut diamonds weighing 1.0cts connect the sapphires and glass modules while also accessorizing the beauty of these gems with their sparkle. The glass is a gorgeous shade of turquoise.
Vintage Gold Diamond Pave Bracelet with Inlaid Green and Red Glass

This is a showpiece. The bracelet is made of 14k white and yellow gold. It is
inlaid with reddish brown and green glass
. Fifty-four round diamonds weighing .75cts are pave set for the sparkle. To underscore the beauty of the glass, the artisans also added red and green enamel, which offsets but also highlights the translucent nature of the glass.
Red and Green Glass Clip Post Earrings with Diamonds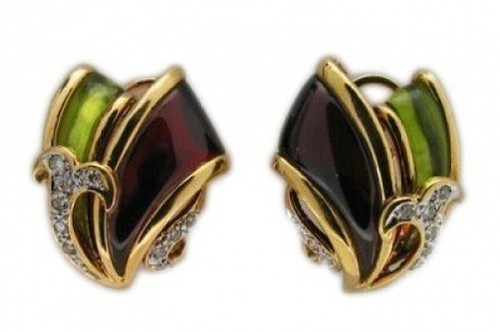 If the aforementioned bracelet left you speechless, you are going to
love these matching earrings
! They feature the same design and careful use of thick and translucent glass for the most amazing optical effect. There are 20 round diamonds weighing .20cts in a pave setting.
Grecian Style Glass Earrings

Set in 14k yellow gold are amber-colored glass circles that mimic
the look of Grecian scenery
. The etchings are beautifully done and greatly enhance the beauty of these earrings. The combination of the reddish color and the yellow of the gold combine for a harmonious mixture that looks great on the ear.
At Peter Suchy Jewelers we are experts in all types of vintage, estate and antique jewelry. We hope you'll
stop by our showroom
located at 1137 High Ridge Road in Stamford Connecticut.
Or, hop on over to our top-rated PowerSeller
eBay store
where you'll find all the vintage glass jewelry you see here. If you find a listing has ended, please email us at
info@petersuchyjewelers.com
as we may still have the item in stock.