In the 1800s, the use of octagonal building designs for homes and official buildings was a hot architectural style. In the mid 1800s, there was a slowly growing affinity for octagonal jewelry design elements as well. Yet before long, this fashion moved into a decline. Over the decades, ambitious jewelry makers have attempted to revive the look.
It has a dedicated group of admirers. Since vintage pieces are so difficult to come by, Peter Suchy Jewelers have made an effort to put together an attractive inventory of top pieces. We have noticed that the primary vehicle for carrying this design is the ring. Which ones are your favorites?
Platinum Halo Ring Featuring an Ideal-cut Diamond

At the center of this amazing piece is an ideal-cut
eight-sided diamond weighing 1.23cts
. Thirty-nine full-cut diamonds weighing a combined total of .75cts surround it. At the top, the ring's width is 11.5mm. This is actually a Peter Suchy original that combines the octagonal design with a halo top. Choose this ring for the perfect engagement!
Art Deco Edwardian Ring with European-cut Diamonds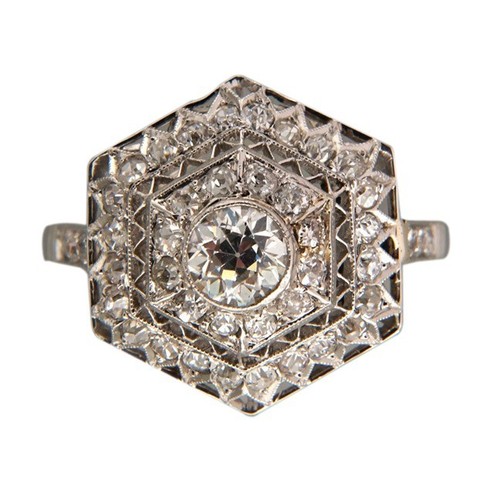 At the center of this cocktail ring is
a beautifully faceted diamond
. It is surrounded by multiple octagons and filigree work. The diamonds are old-European cut. All in all, the combined weight of the gems is 1.10cts. There are 43 diamonds in total. At the top, this ring has a width of 17.4mm. We date this vintage piece to have been made in the 1920s.
Yellow Gold Cocktail Ring with Amethyst and Diamonds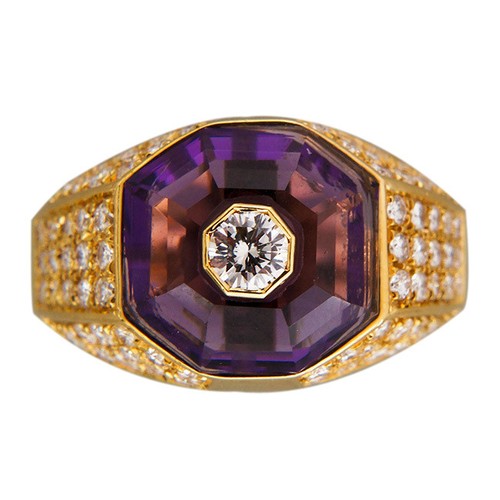 The focal point of this masterpiece is
the eight-sided purple amethyst
. Measuring 12mm by 12mm, it is the perfect surface to hold a brilliant-cut diamond weighing .16cts. Being totally recessed, it looks like it naturally belongs in the middle of the purple stone. On the sides of the 18k yellow gold ring, there are 74 full-cut diamonds that weigh a total of 1.0cts. The top's width measures 13.3mm. Look closely at the clever faceting of the amethyst; this is a sure conversation starter.
Octagonal Design Gold Ring with Onyx and Diamond Pave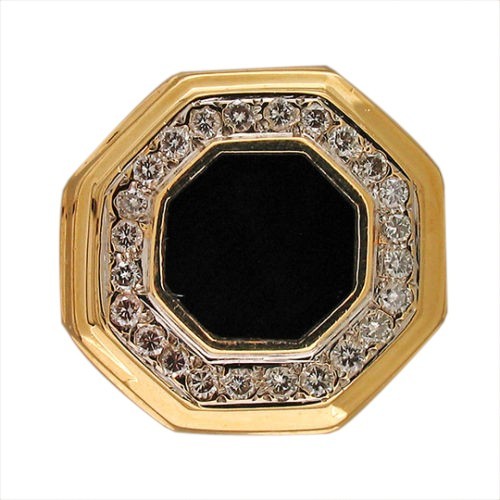 Artisans used 14k solid yellow gold for the setting of this ring. The
cocktail ring was made in the 1960s
. It features a 10mm by 10mm octagonal onyx and a diamond pave set in white gold. There are 24 round diamonds weighing .36cts. The outer edge of the ring is beveled, which gives it a great appearance and adds interest to the different borders within the ring's design. The width is ¾ inches.
At Peter Suchy Jewelers we are experts in all types of vintage, estate and antique jewelry. We hope you'll
stop by our showroom
located at 1137 High Ridge Road in Stamford Connecticut.
Or, hop on over to our top-rated PowerSeller
eBay store
where you'll find all the vintage octagon jewelry you see here. If you find a listing has ended, please email us at
info@petersuchyjewelers.com
as we may still have the item in stock.